Mini Size Dual FSESC6.6 Based upon VESC6 with Aluminum Heatsink
Advanced Features
Dual ESC can reach continuous 200A big current, give your board strong power
One PCBA board integrate two FSESC6 's function by internal CAN BUS circuit connection.
The mater and slave board connection can be switched On/Off
Preserve Bluetooth module and RF module connections for both master and slave board
Aluminum anodized Heat sink with fins design for better heat dissipation
size with heatsink: 81x77x20mm?
PCB layers: 8layers, thickness: 3oz/layer, total 24 oz thickness
Spec:
Hardware: V 6.6
EPRM:150000
Firmware:?Latest firmware version
Voltage: 8V - 60V (Safe for 3S to 12S LiPo)?for the dual ESC
Voltage spikes may not exceed 60V
Current: Continuous 100A?single, total 200A , ?Instantaneous current 400A per single, total 800A for system instantaneous current.
5V 1.5A output for external electronics?for single
3.3V 1A output for external electronics?for single
Modes: DC, BLDC, FOC (sinusoidal)
Supported sensors: ABI, HALL, AS5047
6 shunts in dual system. Each is measurable for the current.
Motor wire: 12AWG
Power cable: 8AWG
Reminder: 1. Detected battery voltage?tolerance:?+/-0.6V? ?
2. This version does support setup for 4WD.
The shipping package contains:
1*Dual FSESC6.6+Heatsink
2*VESC Sensor Wires
1*Micro USB
1*Manual
Details for?Mini?Size Dual FSESC6.6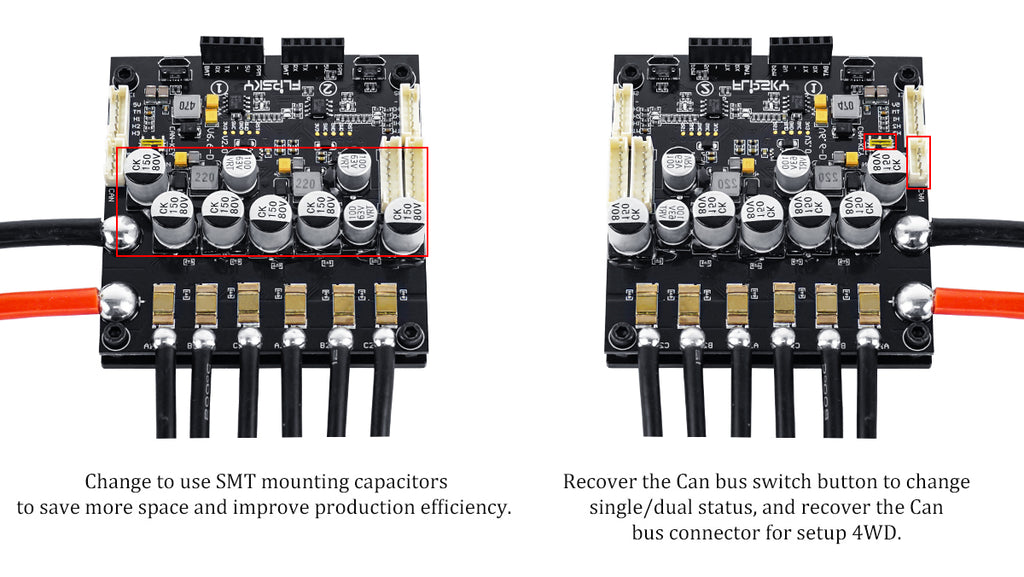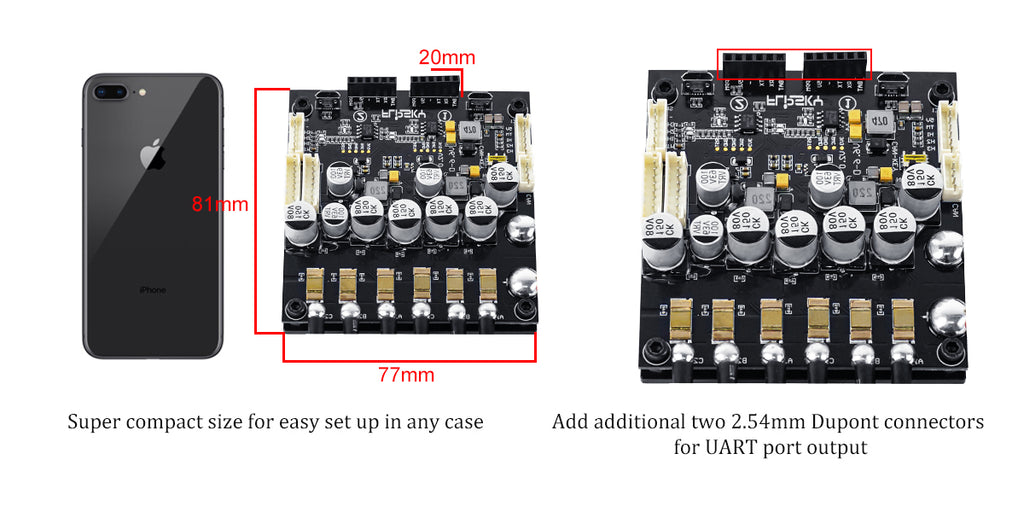 Wiring diagram: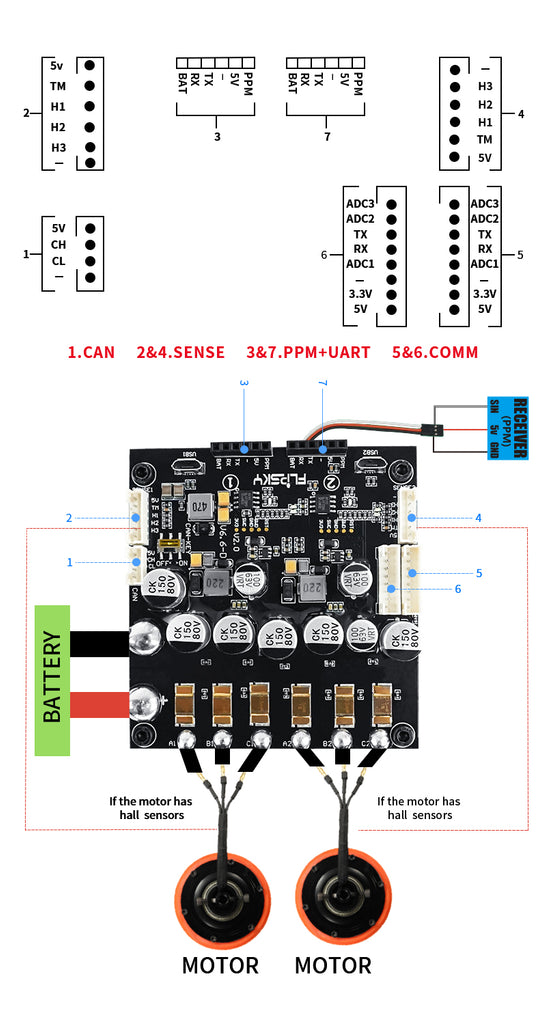 Other Features:
Regenerative braking
Traction control (single and dual?settings)
Sensor or sensorless operation
Configurable RPM, Current, Voltage and Power Limits
Input source: PPM, simulation, NRF Nyko Kama Nunchuck
Communication ports: USB, CAN, UART, NRF, Bluetooth
Throttle curves and ramps for all input sources
Separate acceleration and brake throttle curves
Motor speed, ampere hours, watt hour count,Instant data analysis and reading via communication port
Voltage and current protection setting for Motor and ESC?
Program Tutorial in VESC Tool 1.16
?